10 TIPS FOR GOING VEGAN
Anyone who has ever made a New Year's resolution, or wanted to build a habit, understands how difficult change is despite the strongest of wills. I began my major lifestyle change, My Vegan Journey, the week before Thanksgiving—fantastic timing, I know! Whenever you decide to embark on your journey is the perfect time. Whether that's November 16, the start of the New Year for Veganuary, or even right now, my goal is that these 10 tips for going vegan will help you clarify your intentions, feel inspired, and give you confidence to help you along your journey.
If you still need a bit more help after reading my 10 Tips for Going Vegan, at the bottom of this post there's a link to all my favorite Resources to Help You Become Vegan including some of the most informative books and documentaries that motivated me, and links to the YouTubers who guided me while in my kitchen!
#1 Why?
If you're struggling with getting started on your vegan or plant-based journey, first identify your reason why you want this! My why for going vegan was that I wanted to cause less harm to animals and the environment, and to improve my health. Whatever your reasons, let them empower and guide you to stay on track.
Changing diet and lifestyle can come with a lot of additional questions after you figure out your why. The rest of my tips are for some very common questions I had at the beginning of my journey.
#2 What Can I Eat?
The easiest vegan foods to find are whole plants—as close as you can get to how they grow in nature. Think of fresh fruits; vegetables that can easily be steamed, sautéed, or roasted; and nuts and seeds that make a great snack or as an add-on to breakfast dishes and salads.
Try buying local and seasonal produce and products whenever possible. Foods in season usually have great prices, too. Make it a special outing to shop at a local farmer's market and buy your produce directly from the people who grow it!
#3 Think First, Chew Second
What is often the most difficult challenge is changing our unconscious behaviors. Whether you are going vegan cold tofurkey or easing into things by adopting a more plant-based diet, be kind to yourself! If you catch yourself mistakenly eating something without first considering what the ingredients are, it's OK. It can be a real mental shift to think twice before picking up food, so be kind to yourself. If accidents happen, remember that only you can set your own goals and boundaries.
#4 Stay Open Minded
When it comes to changing your diet, not only do you have to compete with your mental cravings and tastebuds, but also your gut microbiome! Remember the last time you were on a long trip and couldn't wait to get home to cook your food again? This is because the millions of bacteria living within your gut flora want to be replenished and refed with the foods you normally eat. How we eat and feed our bacteria can have powerful effects. Research suggests there is a connection between our mental health and our gut. Over time, you have the potential to boost your mood with the power of your fork.
Again, returning to your reason why can keep you on track while guiding your body and fork, to crave new foods and forget the old ones. A large part of keeping my journey on its course was to watch a new documentary every week to reinforce my why and not forget.
#5 Turn to Foods You Already Eat!
You may not realize it, but a LOT of foods are naturally vegan. I remember just how daunting it was trying to figure out what there is to eat other than whole fruits and vegetables. Vegans are often mocked for eating rabbit food—but I promise you that's not true!
When I went vegan there were already plenty of foods I regularly ate and enjoyed that were plant based. By making a list of them, it made the prospect of dropping animal products from my diet much less daunting. That list helped me visualize the many options already within my diet and cooking repertoire.
Some foods that were on my list included:
Oatmeal topped with fresh fruit
Smoothies (or smoothie bowls)
Spaghetti Pomodoro
Burritos with beans—hold the cheese and sour cream!
Bread, bread, and more bread
Vegetable Samosas, chana masala, dosa, and many other Indian dishes
Hummus and fresh veggies or pita chips
Falafel
Mashed potatoes, baked potatoes, French fried potatoes… all kinds of potatoes
Ethiopian dishes such as misir wot, shiro wot, and gomen wot
Oreos (yep, they're vegan!)
Tomato soup
Try making a list of your own. You may be surprised.
For even more meal inspirations, I've rounded up some of my all-time favorite plant-based recipes in this Pinterest board!
#6 But It's Not the Same…
Things change over time, and that's ok. Remember when you hated certain foods as a kid, or even a few years or months ago? Our tastebuds adapt and grow. You'll discover new foods and dishes you enjoy, and experiment with ways of cooking old recipes with new ingredients. Throughout your journey, perhaps your favorite dishes won't taste exactly as they did before, and maybe they will improve. What surprises me the most is how many more delicious and nutritious dishes I eat now.
Whether you're reimagining your traditional recipes or learning to cook all new meals, your cooking toolbox will grow over time. Be patient and adjust your expectations as your tastebuds transform and adapt as you embrace a more compassionate lifestyle.
Luckily, with a few small ingredient changes, most foods can be prepared vegan. Exchange dairy milk for plant milk, omit cheese or use a vegan (or homemade) alternative, and substitute vegan butter or margarine for butter. For an egg, use a binding replacement such as flax egg, banana, or applesauce. Yes, they all work! Experiment to discover what your preference is.
#7 Cue Céline's Rendition of All by Myself
Join both local and beginner vegan Facebook groups. This online social network will help you build a sense of community and provide a TON of support. Having a space to ask "Is this ingredient vegan?!," or share recipes, favorite products, local news, or just exchange silly memes goes a long way when you're flying solo. Even if you never go to an event or meet up with the other members, it's nice to connect with a new local community. I am in lots of vegan groups! I always join new ones when traveling to a foreign city for an extended time. Thanks to these groups, I've now been to two different vegan food festivals!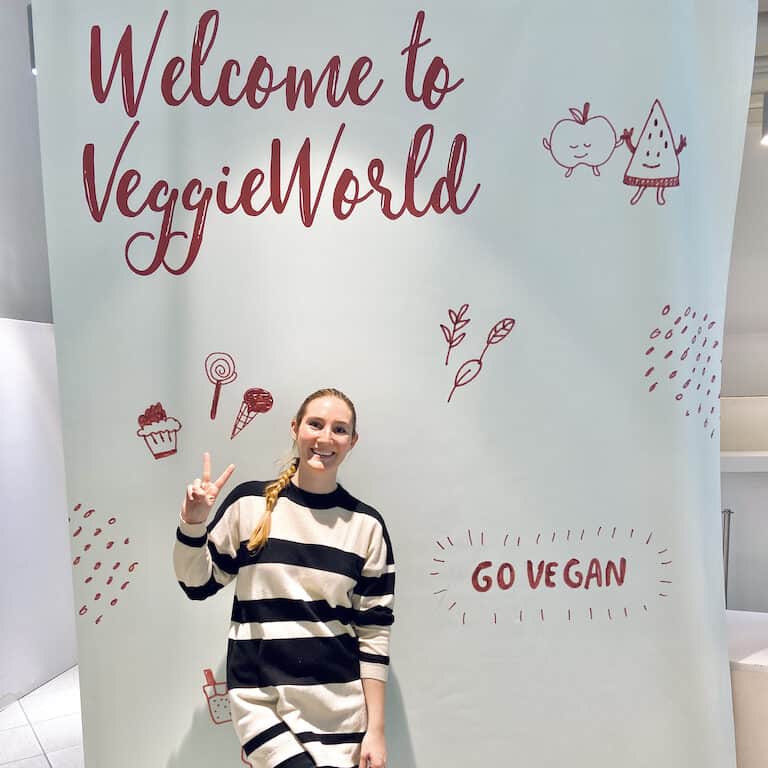 #8 Leaving Your Own Kitchen
Even in some pretty remote locations, I've never had trouble finding something to eat. The only thing that changes is how easily I can access veg-friendly restaurants and the level of variety available. My number one tip for travel is to use the HappyCow app. There is even a feature where you can plan and save future trips, which I use a lot!
Even in what feels like the middle of nowhere, thankfully, there's always some kind of market, shop, or a gas station to find a snack bar, nuts, and fresh fruit… If you get really lucky, maybe you can find a sandwich wrap or some hummus and vegetables.
#9 Prepare for Takeoff
When heading to the airport or train station, always bring food! During long flights, I request a special meal ahead of my flight (usually 48 hours in advance, depending on the airline.) In addition to my meal request, I also bring something with me… just knowing I have something with me in my bag is reassuring. Packing backup food also comes in handy if the in-flight meal is inedible or worse—it doesn't make it on the plane! Depending on your travels, remember to eat whatever you've packed before landing internationally to avoid any issues with international laws.
#10 Staying Social
Never show up to work parties, events or gatherings hungry! I find, if I arrive expecting there to be options for me, I'm likely to be majorly disappointed. As a precaution, I always assume there won't be vegan options and plan to eat a little something beforehand. That way, if there are exciting things I can eat, it's a wonderful surprise. As a frequent snacker, I always keep a granola bar and a fresh piece of fruit in my bag.
You Do YOU!
Something I had feared when beginning my journey was what other people's reactions might be to my personal choices. Vegans are the butt of many jokes, and that's never fun. For the first few months, I didn't tell many people I was eating vegan, to avoid their criticism… But after two years, I can honestly say most people don't care. There's been only one colleague who's mocked me, and instead of finding it hurtful as I feared, his childish behavior was just unflattering and annoying.
I feel truly fortunate that so many of my family members have been supportive enough to give the diet a try! I understand this isn't the case for most people, and my advice is to stick to your why and inspire others through your delicious meals, positive attitude, and radiant health. Avoid judgment or forcing others to the truth if they aren't interested. If your family still gives you a hard time, I've included a link to Earthing Ed's wonderful eBook to equip yourself with retorts for the most common insensitive comments, jokes or rude questions.