Currently, I'm in the middle of rehearsing one of my dream operatic roles, Octavian in Der Rosenkavalier. During the last few weeks, I have been called to almost every rehearsal, with the exception of two…. Honestly, after the past year of lockdowns and cancelations, I couldn't be HAPPIER to be working like this! My creative energy has been renewed and I'm not taking anything for granted. I want to be working as much as possible and welcome the fatigue—it's an incredible privilege to be working right now. I'm staying present in the moment, being mindful, and focusing on gratitude for each and every day we have of rehearsal.
Due to the physical and vocal demands of Octavian, paired with an intense rehearsal schedule, I choose to stay at the opera house during my four-hour afternoon break, or the "Pause". Many of my colleagues use this time to go home, but I prefer to conserve my energy and stay at work. I have no trouble filling up the time; I eat my lunch and dinner, meditate, and work through notes I received in rehearsal or at the computer on my blog. Because I don't go home, I don't cook during the workweek. When I get back to my apartment in the evening, I want to wind down as quickly as possible and go straight to bed. This means I have to do some epic meal prep during my day off!
This past Sunday, I was particularly tired and decided to keep my meal prep efficient and simple. My goal was to cook nutrient dense, low calorie foods so I could eat more to feel satiated without overeating at a single meal. I know how complicated calorie counting/macros are for many people. (I've been there myself.)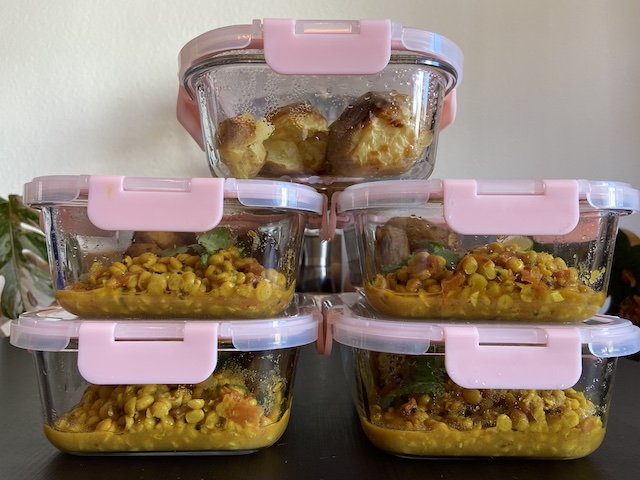 Nutritional Planning Because Food Is Fuel
My philosophy is that food is fuel. I depend on my nutrition to get me though six hours of active rehearsal each day. Making sure I have the right variety and quality of calories enables my body to function at its best. Opera singers love referring to themselves as "singing athletes", and I completely agree.
Since going vegan, plant-based eating has made a huge improvement in my performance and stamina. If you haven't watched the Netflix documentary, The Game Changers, I would highly recommend it! The film features a number of famous athletes who found improved performance, recovery, and overall health after adopting a plant-based diet. Their success stories and testimonials are truly inspirational. As a performer, my body IS my instrument and taking every step to help it function its best is important to me.
Enjoying Your Meal Prep
I get it—the idea of eating the same thing day after day isn't particularly appetizing. Who doesn't love variety? Right now, considering my current schedule, I'm not bothered by the repetition of meals. When my break begins, I'm grateful that I don't need to go to a restaurant and choose what I want to eat and then wait for it to be prepared. Of course, I could have more variety within the meals I prepare for the week, but that would mean more cooking on Sunday, which I don't want to do.
Choosing foods that are satiating, flavorful, and nutrient-dense helps make the repetition less bothersome. Think of the humble potato. Considered a complete food, potatoes are a source of complex carbohydrates making them an incredibly satisfying food that I eat just about every day! They're packed full of vitamins and minerals, too.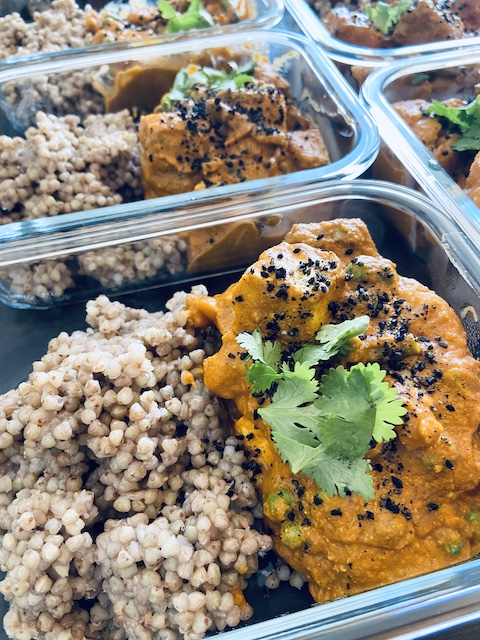 What My Week of Meal Prep Looks Like:
Indian Dal
This Instant Pot recipe by Cook with Manali is my fav! We quadruple the recipe to have enough for two people for 6 days. Check out the recipe HERE
Roasted Potatoes
Tofu & Veg tikka masala
My recipe is coming soon!
Buckwheat
For 5 days worth of meals, I cook 2-3 cups of dry buckwheat using my InstantPot.
Chickpea Blondies
Veggiekins has made one of my favorite healthy treat recipes. I like to use dry chickpeas that I can overcook in the instant pot to blend up quickly! Check out the recipe HERE
Salad
And for additional snacks (that don't need to be prepared):
A protein shake for after my workouts or intense staging rehearsals.
Fresh fruit (apples, clementines, grapes) 
Raw bell pepper
Dried crasins, almonds, and peanuts
Dark chocolate (Fair trade if possible)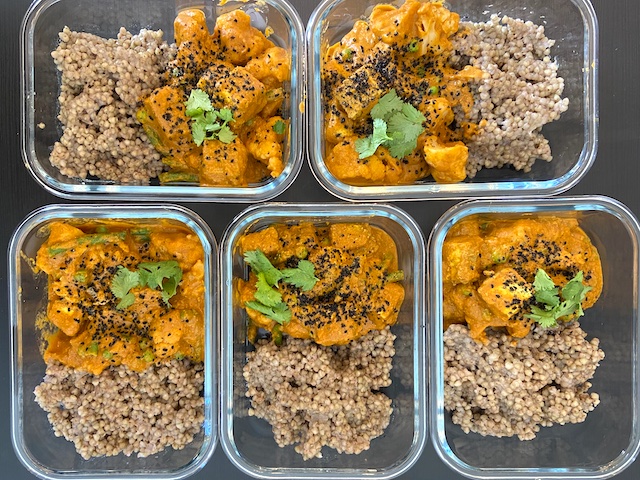 ---
---
4 Benefits of Meal Prep
Nourish Your Body & Hit Your Goals
Ever since I went vegan, the benefits of nutrition have become abundantly clear to me. Making sure we get vitamins and minerals from whole plant foods (instead of a multivitamin) is one of the best ways to let our body take care of itself. In addition to nutrition, essential elements to feeling and performing my best include getting enough sleep, hydration, and taking the time to stretch.
I track all of my food in the free Cronometer app. With the help of a digital kitchen scale and this app I can track my macros and essential vitamins and minerals (something many other food tracking apps lack). Even though I try to hit my nutritional targets through whole plant foods, I do still take vitamins per my doctor's recommendation that I don't bother adding into the app.
But wouldn't it just be easier to buy something premade or from a restaurant?
I find that ordering take-out can also throw my digestion and energy out of whack. Restaurants tend to cook with ingredients I don't usually use, including lots of salt and oil, and as delicious as those ingredients are, they really take a toll on my body. Oils are a very sneaky way of consuming unnecessary calories for little benefit to your satiety because these calories are undetected by the body.
I experimented last weekend with enjoying takeout a few times and it felt like my body was suffering from food jet-lag. It was an important lesson to learn; the foreign, delicious foods made it harder for my body to feel ready to rehearse at full speed on Monday morning. My goal now is to indulge in one take-out meal on the weekend to get a break from eating my own home cooking (as fabulous as it can be) and still give my metabolism enough recovery time from the indulgent ingredients I usually don't eat.
Preserve Your Energy During the Week
Eating well, sleeping, and drinking enough water are all things we know we should be striving to achieve, right? Then why is it so hard to stay on track?
Because we only have so much willpower and choice within a day.
It's been said that successful people organize their days and actions in ways that preserve their decision making for what is critically important. Small decisions add up over time and by the end of the day, you have the least amount of willpower. It's after a long day, late at night, that I feel the most susceptible to eating junk food, out of boredom or seeking comfort.
The benefit of having meals prepped and planned out means you have to think about it and won't succumb to choices that get you off track. Choosing healthy treats and eating them earlier in the day also satisfies my sweet tooth enough that I still have enough willpower. Chickpea blondies, black bean brownies, and a no-bake apple walnut tart are some of my favorite healthy treats. Of course, eating the same meal over and over again isn't as exciting as deciding and ordering what you're in the mood for, but it does keep you on track.
Boost Your Budget
The pandemic dramatically changed my eating habits when I began cooking all of my own meals from scratch at home. Not only did I notice the benefits to my health, but also to my monthly spending and overall budget! Trying new restaurants and cuisines is still one of my favorite things to do and I look forward to when it's safe to do so again, but at the moment, it's not practical mid-pandemic.
Eating whole food is a huge benefit to your budget. Grains, legumes, and seasonal produce are some of the most inexpensive and budget friendly options at the market. It's only when you begin to add in packaged snacks, premade or pre-chopped foods, and extras such as sauces and spreads, that a vegan diet becomes expensive.
Make Less Waste
Another benefit of meal prep is avoiding takeout containers and many single-use plastics. We're still in lockdown in Munich and dining in restaurants is not allowed. Despite packaging on grocery items, I make less landfill waste and food waste by preparing exactly what I need for the week and choosing what I buy at the store.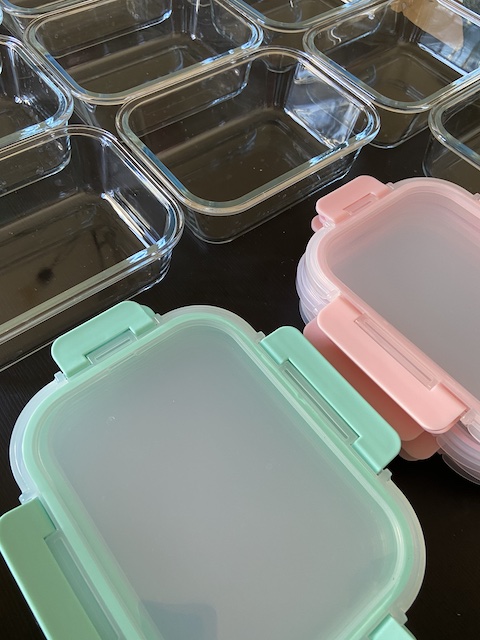 My favorite meal prep tools!
This post includes my amazon affiliate link and I may earn a small commission when you use it and make a purchase without incurring an additional fee yourself.
The Instant Pot
There aren't many electronics I feel like I NEED. My iPhone, a hair blowdryer, and the Instant Pot are truly my essentials.
Glass Food Storage Containers
Oven, microwave, freezer, and dishwasher safe… WIN! The colors are also a nice addition.
Digital Kitchen Scale
You could measure food with cups or estimate instead, but I like to log my food as accurately as possible. It's easy to switch between grams, ounces, milliliters, pounds, and tare the weight of your food containers.
Insulated Thermos
It seriously keeps soup hot all day long. Great for travel or those extra busy days when microwaving isn't an option.
Camping Spork
This is something I always keep in my bag so I never need to use a disposable fork or spoon. Just so happens it's my utensil of choice when I bring my meals with me to work!
Only Meal Prep for the Times You Need It
The biggest thing to keep in mind is that meal prepping isn't forever. At least not for me! In a few weeks my show will be over and I'll be back at home with loads of time to kill, meaning I'll be back in the kitchen cooking, experimenting, and cooking fresh meals as often as I please. Knowing that, I'm willing to sacrifice variety for a few weeks in order to have greater success achieving my artistic goals during the duration of my rehearsal period and performances.
To get started, I highly recommend using Pinterest to search for specific recipes. If you need some inspiration I've compiled a board of my favorite's below. Have any awesome recipes I should try or meal prep tips to share? Drop them in the comments below so I can check them out!