You may think of Germany as an unfriendly place for vegans considering that traditional dishes prominently feature meat. Bratwurst, schweinshaxe, and lieberkäse are some of the first foods that come to mind. Surprisingly, I've never had trouble finding something to eat here thanks to the growing popularity of plant-based eating! There are options at most restaurants and there are SO many vegan restaurants in Munich. (Don't even get me started on how much I love the selection at grocery stores.) It's been so much fun trying all the vegan eats in my new city. I even got lucky and arrived just in time to visit VeggieWorld, a vegan lifestyle trade fair, to familiarize myself with many of the local vendors and brands. 
Some of the restaurants on my list are not exclusively vegan, although I try to support local vegan businesses whenever possible. I know how important it is to have options that accommodate omnivorous friends. And, if you are unable to decide on the location, even at well-known traditional establishments, there is often a vegan-friendly option. At a minimum, you always have pretzels, bread, and beer!
---
Vegan Restaurants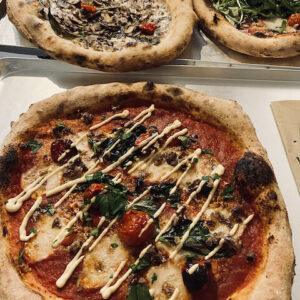 Doctor Drooly 
How to describe my passion for this pizza…. They don't just make a great vegan pizza, Doctor Drooly makes great pizza. PERIOD! I've taken skeptical omni-friends to this spot (even an Italian) and everyone has been amazed.
My favorites are Alla Nonna, their old version of the Miso, and my husband is crazy about the Jane Birkin. They have limited seating, but offer takeout and recently joined the Wolt app for delivery.
Doctor Drooly
Häberlstraße 7
80337 München
Siggis 
Until Doctor Drooly opened, Siggis was my SPOT in Munich! It's recently moved to a new location and is also currently closed due to the pandemic, but I can't wait to visit them again and try the new menu additions.
My go-to favorites were the lasagna, the "tasty" sandwich, and all the soups. They offer many gluten-free dishes too.
Until Doctor Drooly opened, Siggis was my SPOT in Munich! It's recently moved to a new location and is also currently closed due to the pandemic, but I can't wait to visit them again and try the new menu additions! 
SIGGIS vegan & fresh food
Buttermelcherstraße 17
80649 München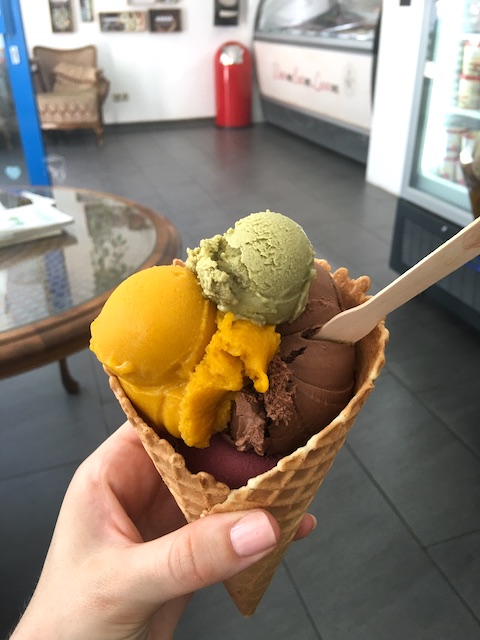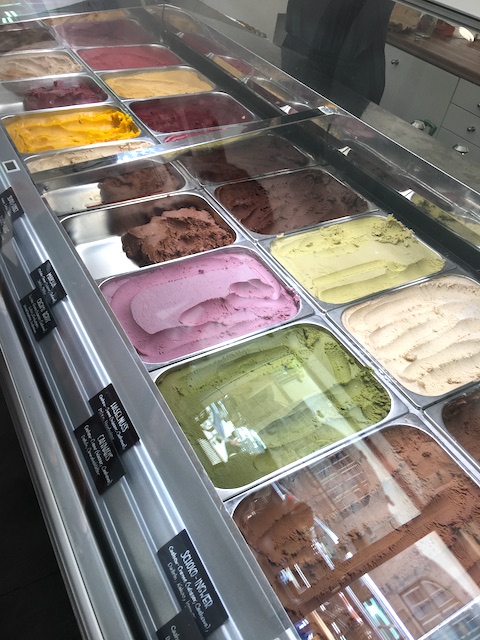 Perhaps this is the healthiest ice cream ever. I'm crazy about Ice Date because it feels like a guilt-free treat because it's made with only three to five ingredients: cashews, dates, and whatever other fruits or flavors are needed. Their delicious ice cream is also gluten-free, soy-free, and organic.
According to some of my friends, the texture can feel slightly grainy, but I don't notice it, probably because I'm thrilled with the nutritional trade-off! I'm keeping my fingers crossed that someday they'll make a Waldmeister Eis, a special flavor only here in Germany.
In addition to their store location, they sell Ice Date online and at specialty bio (organic) stores so you can still give it a try when their shops are closed during the winter months.
Ice Date
Amalienstraße 91
80799 Munich
Klenzestrasse 51
80469 Munich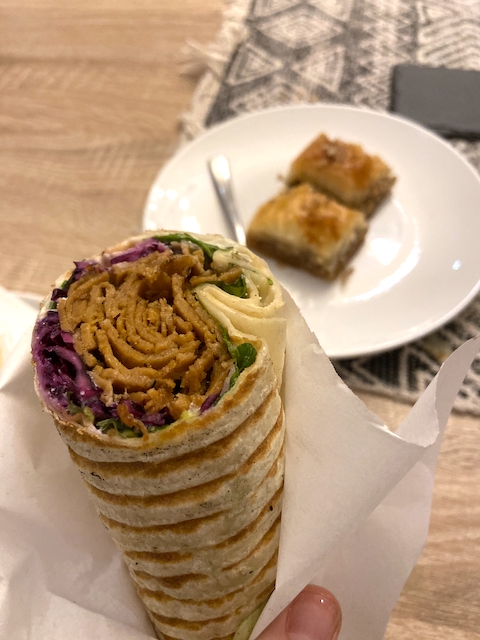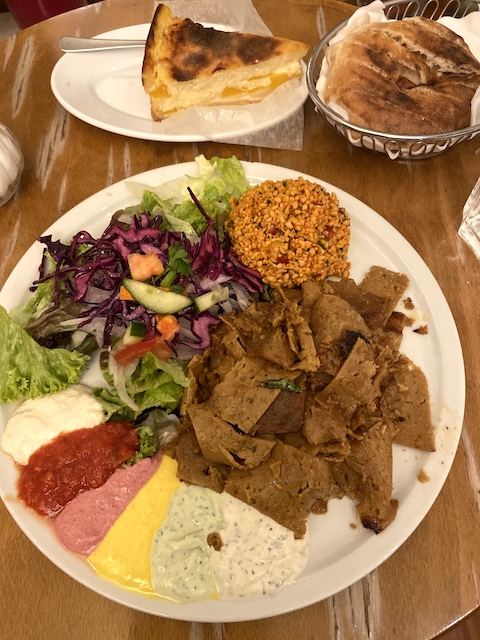 Erbils 
Mediterranean food is quite popular throughout Germany, but finding a vegan Döner or Dürüm can be a challenge. Erbil's makes their mock meat out of seitan (pronounced say-tan, not Satan like the devil's name) and they have an impressive display of homemade side dishes and desserts—try the baklava.
Erbils
Breisacherstraße 13
81667 München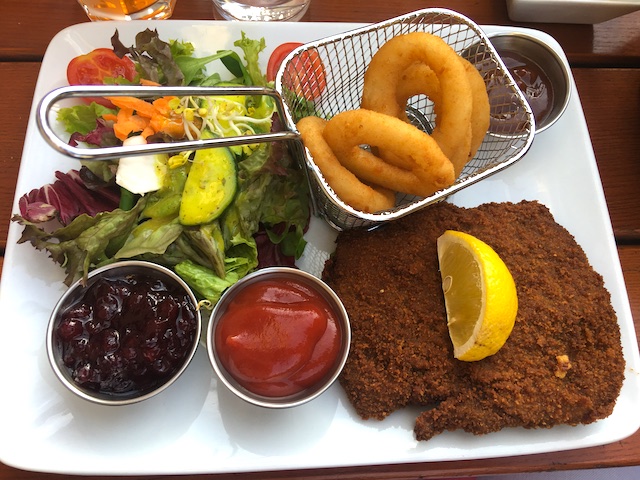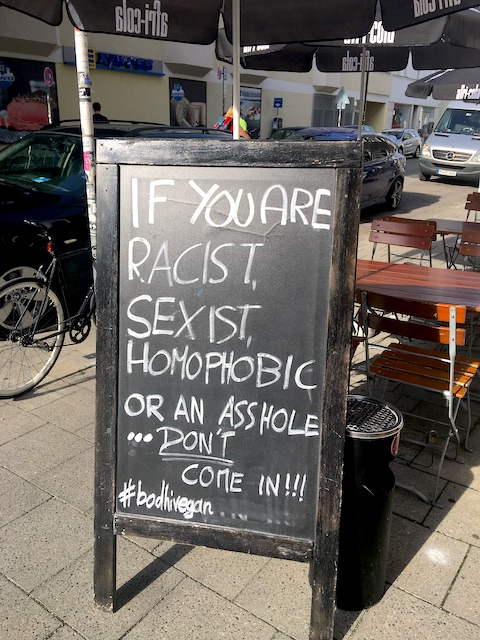 Bodhi
Now that I'm writing this list of my favorite spots in Munich, I'm wondering why I've only been to Bodhi once! They have such an accessible menu with vegan-ized versions of many comfort foods like burgers, buffalo wings, and schnitzel. Also, I wish more restaurants had such clear signage as Bodhi.
Bodhi
Ligsalzstraße 23
80339 München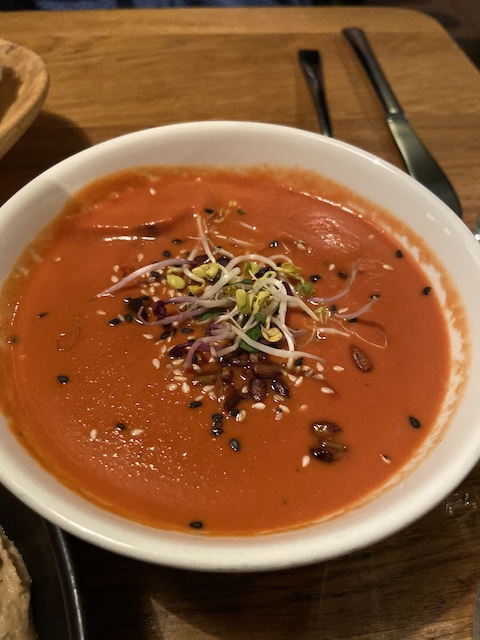 The Gratitude
Right next door to another spot on my list, Orange Box, The Gratitude eatery is one of THE vegan restaurants in Munich everyone knows about that offers a nice restaurant experience. Dark lighting, a very hip vibe, and an interesting menu—not pictured was the banh mi sandwich we tried.
Although it's not unusual for Germany, Gratitude closes down in the afternoon between lunch and dinner, which made it difficult for me to make a reservation and initially give it a try. Once lockdown is over and regular dining resumes, make a reservation and give Gratitude a try.
The Gratitude
Türkenstraße 55
80799 München
---
Munich's Vegetarian Restaurants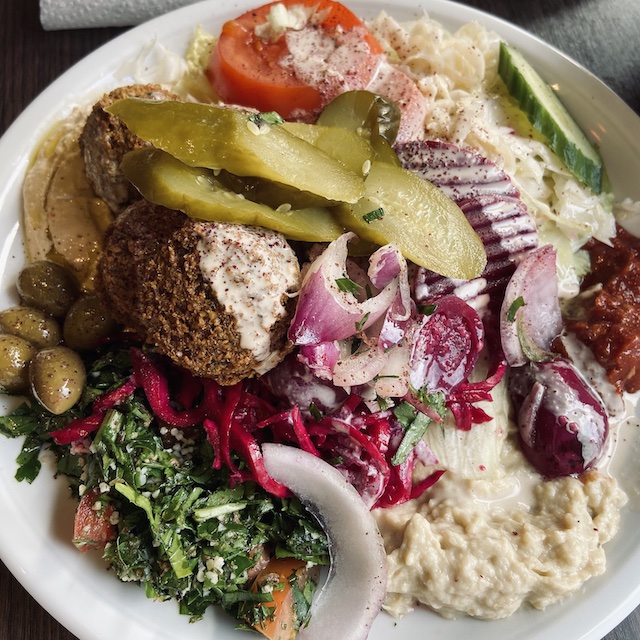 Sababa
Located in Munich's popular Viktualienmarkt, this might be one of the options for affordable and delish vegan food. Their Falafel plate is vegan and comes heaped with a variety of pickled veggies, hummus, warm falafel balls, and a side of bread. This entire plate of food is under nine euros and is a filling and energizing meal I occasionally enjoy during my lunch break at the opera house.
Sababa
Westenriederstraße 9
80331 München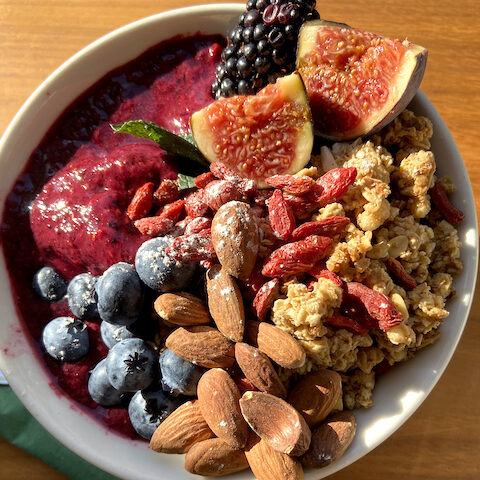 Wagners Juicery
This might have been one of the most beautiful smoothie bowls I've ever had, and it was so tasty too. Wagners' plant-based menu also offers beverages, salads, and sweets in a cool and trendy atmosphere by the Isar.

Wagners Juicery
Fraunhoferstraße 43
80469 München
Prinz Myshkin
Just a few steps away from Marienplatz, Prinz Myshkin is one of the best vegetarian options in town. The restaurant space is huge, unlike my other recommendations, and the large menu selection has so many vegan and vegetarian dishes. I always find myself flipping through the menu pages unable to decide and end up reordering my usual: the vegan ravioli with truffle… yum!
Prinz Myshkin
Hackenstraße 2
80331 München
---
Vegetarian & Vegan Friendly Dining Options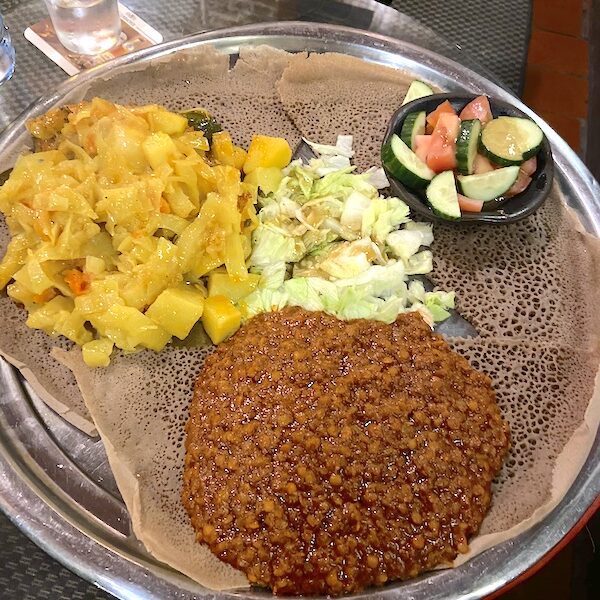 Blue Nile
Did you know that Ethiopian food is extremely veg-friendly?! I'm so happy about this because I am crazy about the flavors of this cuisine, and what's better than eating delicious (and nutritiously fermented) bread with your hands? Twice a week the Ethiopian Orthodox Church fasts by omitting all animal products, so there are plenty of vegan-friendly dishes for these two days of fasting. My favorite vegetarian options are Shiro and Misir wat and their sautéed grünkohl or kale. Just remember to specify vegan and ask for no cheese.
Munich's Blue Nile has two locations and partners with Lieferando for delivery services.
Blue Nile
Siegesstraße 22a
80803 München

Viktor-Scheffel-Straße 22
80803 München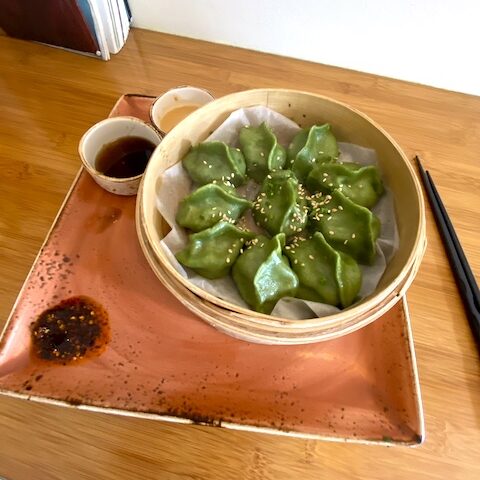 Le Du Happy Dumplings 
There are four locations of Le Du Happy Dumplings throughout the city, but I've only visited the one on Theresienstraße. There are two vegan options, as well as some side salads and edamame. The colorful veggie dumplings and glass noodle salad are my favorites, and I'm crazy about their homemade sauces and chili oil.
Le Du Happy Dumplings
Theresienstraße 18
80333 München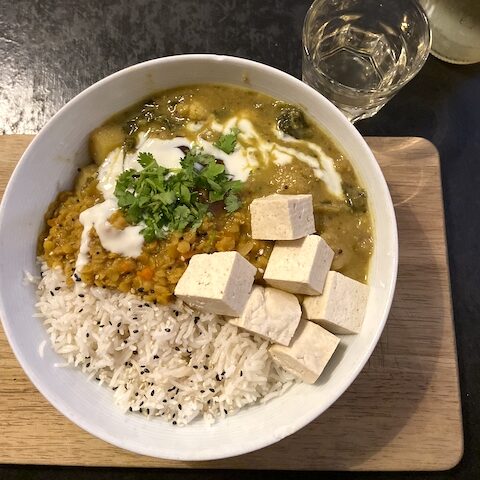 Orange Box
Located in my absolute favorite part of town, Orange Box has a relaxed and college vibe with inexpensive dishes, a bunch of vegan and gluten-free options, and casual seating. Their dal with mango chutney and a side of tofu was a staple meal during my move to Munich between rehearsals and installing my kitchen.

Orange Box
Türkenstraße 61
80799 München
---
There are quite a few other locations I had thought to include to give you more options, but these are my absolute favorites and the recommendations I share with friends. Once life begins to return to normal, I am so looking forward to exploring more of the vegan dining options in Munich!
What are some of your favorite vegan restaurants in Munich that I didn't include on this list?