If there is any food that I miss while residing in Germany, it's great Mexican cuisine. The cold weather has me also craving soups, which explains the cravings I had for a Black Bean Soup! My old NYC apartment was one block away from a hole in the wall spot called Burrito Box. They made my favorite burritos—I even kept their number on speed dial. Considering how much I love beans and spicy food, you'd think I would've grown up around Mexican cuisine, but I don't remember ever trying it until after I moved away from my home state, Massachusetts.
Between living in NYC, frequent trips to L.A., and various other travels, I've grown to adore the fresh and vibrant flavors in Mexican food, so much so that it played a big role in My Vegan Journey.
After my move to Germany and testing several bizarre, and frankly disappointing, interpretations of my favorite cuisine, I gave up all hope of finding my new Mexican spot here—that is until I found Mercado de Mexico, an adorable Mexican import shop in Munich. This shop has made my experience living abroad easier (or at least more comfortable.) After buying some imported frozen corn tortillas, salsas, and dry beans, I could recreate the spicy and flavorful dishes I missed so much.
With a pantry now well stocked with some essential ingredients and spices, Mexican themed dishes are a staple part of weekly meal planning. Burrito bowls, tacos, and this black bean soup are just a few.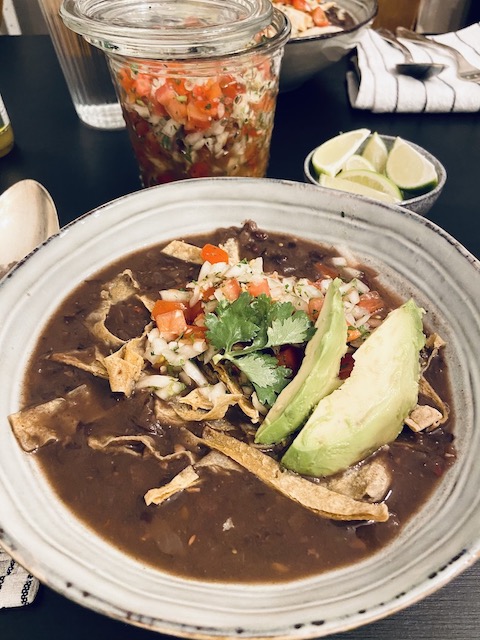 Crazy for Soup's & My Instant Pot…
If you've ever been to a Sweet Tomatoes or Souplantatiton, you might have tried their delicious Santa Fe Black Bean Chili, which inspired this Black Bean Soup recipe. Once the seasons change to colder weather, I am crazy for soups…. Sometimes my husband needs to point out when we've had soups for both lunch and dinner. Although this is not a traditional Mexican recipe, it takes inspiration from the flavors and ingredients that I love. After dressing it up with the right sides and toppings, there are never complaints about too much of this soup!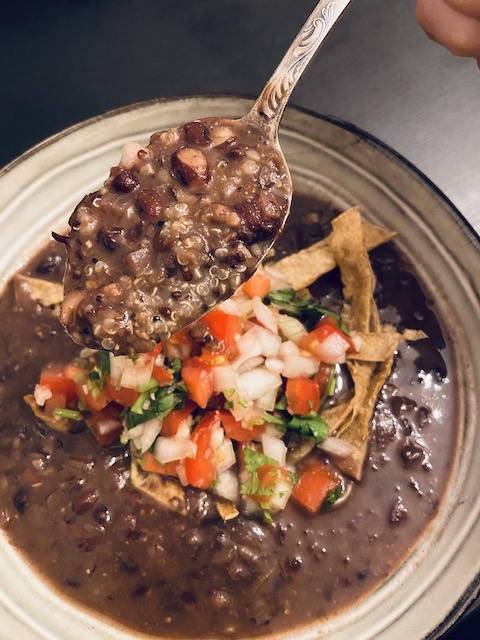 "Cookin' with Sam"
An expression used when I get creative in the kitchen, often resulting in loud dish clanking, unmeasured ingredients, and delicious results (most of the time).
---
Mezzo Adventures is a participant in the Amazon Services LLC Associates Program, an affiliate advertising program designed to provide a means for sites to earn advertising fees by advertising and linking to Amazon.com.
---
One night I needed to whip up something easy for dinner and remembered there was Salsa Verde in the pantry, and in typical "cookin' with Sam" style, I got to experimenting! I took black beans and various ingredients I had on hand and dumped them all in my trusty 6 quart Instant Pot Duo.
The initial soup was pretty good—with the addition of some hot sauce and toppings. After tweaking the spices and other ingredients, I finally got it; the key is to toast the spices just after sauteing the onions and to add in the Salsa Verde after cooking!
Here in Germany, I have the original Instant Pot Duo—it was the only option available to me at the time. If you're considering an Instant Pot I would definitely go for the combination that includes an air fryer lid…. There are so many cooking possibilities with this device!
amzn_assoc_tracking_id = "mezzoadventur-20"; amzn_assoc_ad_mode = "manual"; amzn_assoc_ad_type = "smart"; amzn_assoc_marketplace = "amazon"; amzn_assoc_region = "US"; amzn_assoc_design = "enhanced_links"; amzn_assoc_asins = "B07VT23JDM"; amzn_assoc_placement = "adunit"; amzn_assoc_linkid = "7e74b0932038bf76ebcc1a6c088ddaa3";
Whole Food Plant-Based & Oil-Free Soup
Like my other recipes, you might notice that this soup is oil free, which makes this dish low fat and reduces the overall calories—extra helping? Yes, please! If you don't have a hand blender or avoid blending foods to keep the fiber intact, use a potato masher to break up some of the beans and still get that thicker soup consistency.
To top it all off, I recommend pairing the soup with quinoa, avocado, and fresh Pico de Gallo! Corn tortillas are a delicious addition, too. Slice them into strips and crisp them up in the oven for a few minutes to add to the top of the soup.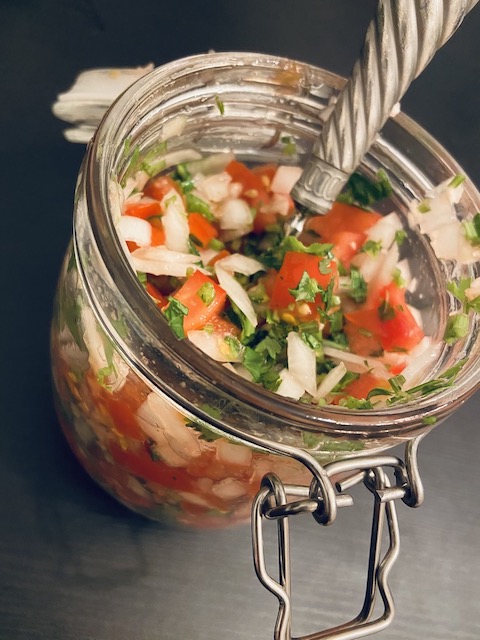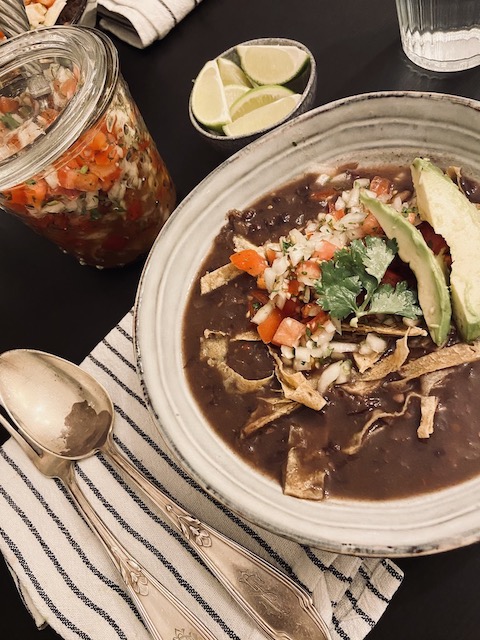 Black Bean Soup
Equipment
Instant Pot (or other electric pressure cooker)

Hand Mixer or Potato Masher
Ingredients
2.5

Cups

Dried Black Beans*

See recipe notes below

6

Cloves

Garlic

About 25 g

1

Whole

Yellow Onion

About 240 g

1

Whole

Red Onion

About 170 g

1

Whole

Jalapeño (or hotter)

1

TBSP

Cumin

1

TBSP

Coriander Powder

1/2

tsp

Red Pepper Powder

1/16

tsp

Cayenne

2

Whole

Bay Leaves

1.5

Liters

Vegetable Stock or Water and a Bouillon Cube

250

g

Salsa Verde
Instructions
Set your pressure cooker to sauté mode for 10 minutes.

Once the pot has heated, add the onions and sauté until translucent. About 5 minutes. Add splashes of water as needed to deglaze the pot and prevent sticking and/or burning.

After a few minutes add in the diced garlic and jalapeño. Cook for another minute, or two until fragrant. Continue to add some water as needed.

Add your cumin, coriander, red pepper powder, and cayenne, and toast the spices.

End satué mode by pressing cancel and add in your pre-soaked* (or drained and rinsed canned beans) to the pot. Mix the beans and onions together making sure to get all the spice off the bottom of the pot. The residual water from the beans should do this. See recipe notes below.

Pour in 1.5 liters of vegetable stock (or water and vegetable bouillon cube), bay leaves, and stir it all together.

Close the lid of the Instant Pot, set the valve to sealing, and select the soup setting or set manually on high pressure for 15 minutes. Allow a natural pressure release.

After the pressure has naturally released, carefully switch the sealing valve and take off the lid. Remove the bay leaves from the soup and blend the soup a bit to the desired consistency. I only do a few pulses with my hand mixer because I like some beans to keep their form.

Add your salsa verde to the blended soup and stir well. Add additional seasonings or salt to taste.

Bowl up your soup and top with fresh Pico de Gallo, tortilla strips, cilantro, or quinoa, and serve!
Notes
I recommend pre-soaking your black beans for 6-8 hours, or the evening before. Add your dry black beans to a large bowl and cover with at least 3-4 inches of water. Strain the beans and rinse with fresh water before cooking. 
Por Favor
If you're a local here in Munich and can recommend a fantastic restaurant, please share in the comments below. In the meantime, I'll keep working away on my homemade recipes!