Tomato soup = comfort!
Pair it with a sandwich, some delicious bread, or enjoy it alone! This healthy vegan creamy tomato soup recipe is made in the Instant Pot or can be cooked on the stove, and once it's blended transforms into a rich and creamy consistency. I also almost always have the ingredients on hand, which makes it even easier to make! The recipe is also oil and gluten-free, depending on your ingredients on hand.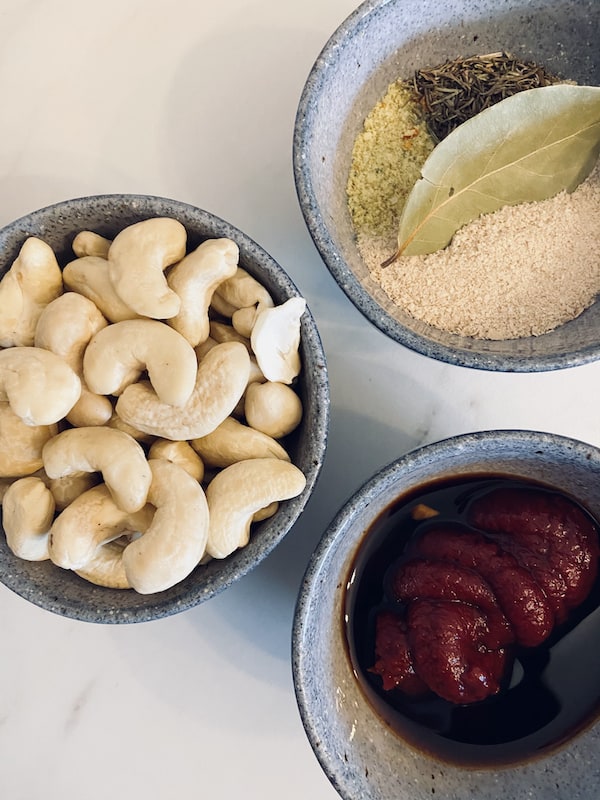 One of my favorite comfort meals used to be a grilled cheese and tomato soup. There was this one restaurant in NYC that had the PERFECT tomato soup. It reminded me of lobster bisque with hints of Indian spices… mhmm! Although I haven't replicated that soup yet, this one hits the spot when I have a comfort soup craving.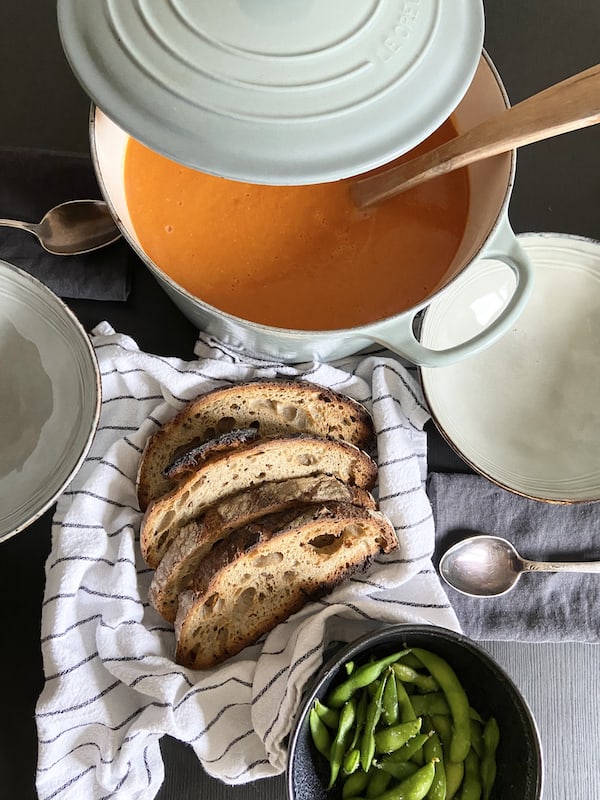 Why no oil?
Olive, coconut, and other cooking oils are often considered to be healthy foods. Fat is, of course, an essential macronutrient in our diet.. but many Whole Food Plant-Based doctors actually advise against consuming added oils!
Cooking oils are not only dense in calories but also high in saturated fats, which you don't want. The negative effects of excess dietary fat include high cholesterol levels, cardiovascular health problems, and an excess of body fat. Eating too much fat can also disrupt natural hormonal functions, as presented in Dr. Neal Barnard's most recent book, Your Body In Balance (I highly recommend!).
If you track calories, cooking without oil is also a great way to make room for real food. 1 tablespoon of oil is over 100 calories! Wouldn't an apple, 3 cucumbers, OR a banana be a more filling (and nutritious) alternative? And when we're dipping bread in oil, can we ever limit ourselves to 1 tbsp?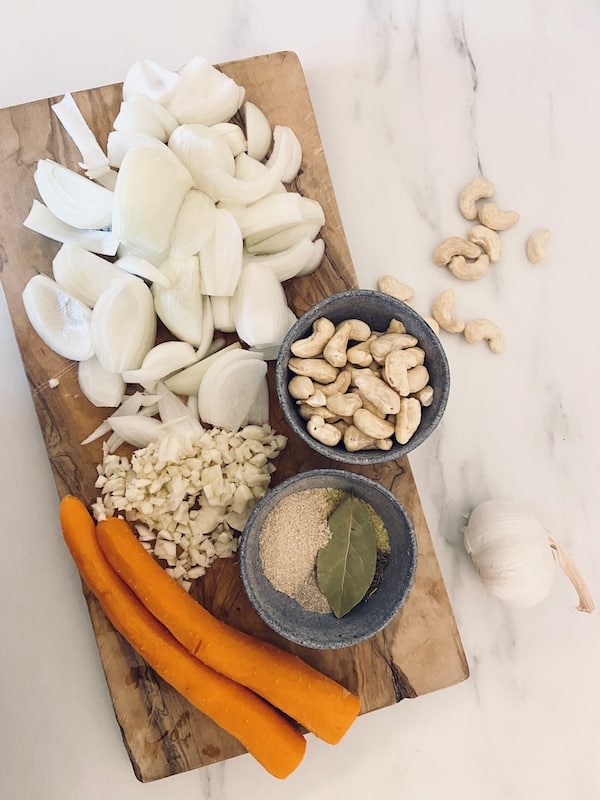 But we need fats…
Of course, we need fat in our diets! Instead of getting my fats from oils, I try to eat whole and unprocessed foods like nuts, seeds, avocados, tofu, and olives in moderation. I feel guilt-free saving the oil for rare occasions like cooking fried tofu, ordering a vegan pizza, or enjoying some Ethiopian food. I've also noticed a big difference in my cholesterol from this small change! The cashews used in this recipe make the soup so rich and also add in a source of healthy fats!
After a few times cooking this way you won't even notice that the oil is missing. It can be hard at first to not grab the olive oil bottle sitting conveniently next to the cooktop, but a splash of water to deglaze the pan is a very inexpensive and healthy way to cook… Leaving more calories for an extra serving of soup or an afternoon snack!
Let's get cooking!
Since I haven't been in Germany for that long, I still have yet to find roasted tomatoes. I use diced tomatoes in this recipe. I imagine adding a can or two of fire-roasted tomatoes would take this creamy tomato soup to the next level! If you have those on hand and try it out, please let me know!
Please note that this recipe may contain affiliate links.  You can read my full disclosure & disclaimers statement linked at the bottom of the page!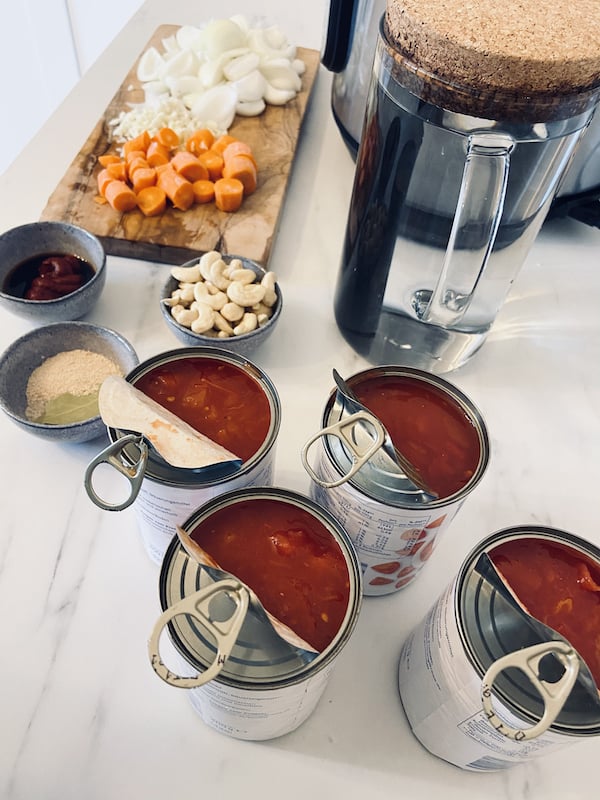 Instructions:
Get your Instant Pot or a large soup pot out and turn to sauté mode or low heat.
Roughly chop your onions, garlic, and carrots. Everything is going in a blender in a bit so no need to spend too much time and energy on this step!
Add in your chopped vegetables and add a splash of water as needed. Cook until the onions are translucent and add in your tomato paste, soy sauce, cashews, canned tomatoes, vegetable broth (or water and billions cube), spices, and mix well.
Place the lid on your pressure cooker, make sure your venting knob is set to sealing, and cook on low pressure for 10 minutes. Allow a natural release.
Once the floating valve has dropped on your Instant Pot lid, stir your soup and remove the bay leaf (you don't want to blend this up).
Transfer your soup to a blender and blend on high speed to a smooth consistency. I usually need to blend the entirety of this soup into 2 batches, and later combine it all in a new pot or storage container to do a final taste test. Once you've blended the soup altogether, give it a final taste, and determine if more salt, pepper, thyme, or nutritional yeast is needed.
Serve with fresh cracked black pepper and basil. Enjoy!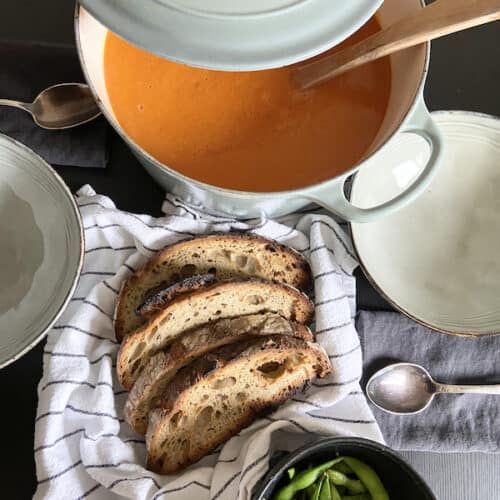 Healthy Vegan Creamy Tomato Soup
Equipment
Pressure cooker

Blender or Hand Mixer
Ingredients
1

Large

Yellow Onion

4

Cloves

Garlic

1-2

Whole

Carrots

1/2

Cup

Raw & Unsalted Cashews

1

tbsp

Tomato Paste

4

Cans of Tomatoes

400g or 15oz each.

1

tbsp

Soy Sauce

or Bragg Liquid Aminos. Check labels to make sure they are vegan and gluten-free varieties.

1-1.5

Liters

Water or Vegetable Broth

If using water, add a vegetable bouillon cube. Check labels to make sure they are vegan and gluten-free varieties.

1

Whole

Bay Leaf

1

tsp

Thyme

2-3

tbsp

Nutritional Yeast

1/4

tsp

Black Pepper

Salt to taste

Fresh Basil
Instructions
Chop your onions, carrots, and garlic.

Set your pressure cooker to saute mode, once heated add in the onions, carrots, and garlic. Add a splash of water to prevent burning/sticking, repeat as needed.

Add in your tomato paste, canned tomatoes, vegetable stock or water & bouillon cube, cashews, and seasonings.

Set pressure cooker to 10 minutes and allow a natural release.

Once the floating valve has dropped, remove the bay leave and carefully transfer soup to a blender. Add additional spices and seasonings to taste, especially salt and pepper.

Top with fresh ground black pepper, fresh basil, and enjoy!